Warrior Painting Reveal!!!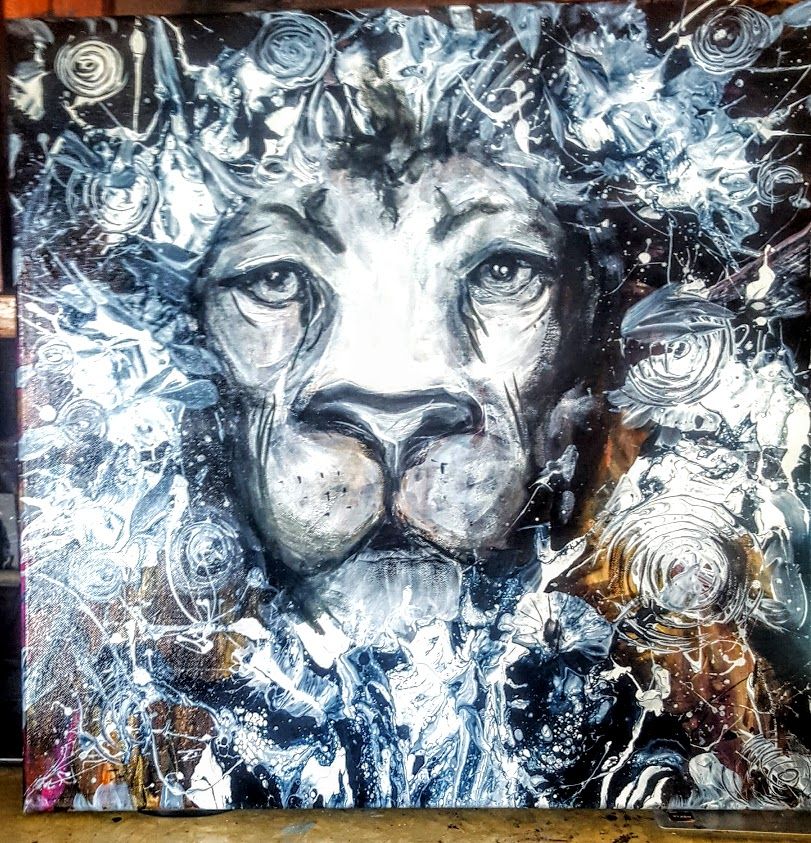 Samantha received her daughter's painting today! In memory of her daughter Ariya The Lion, who loved puddle jumps, bubbles, and life; a painting of a 'puddle stomp'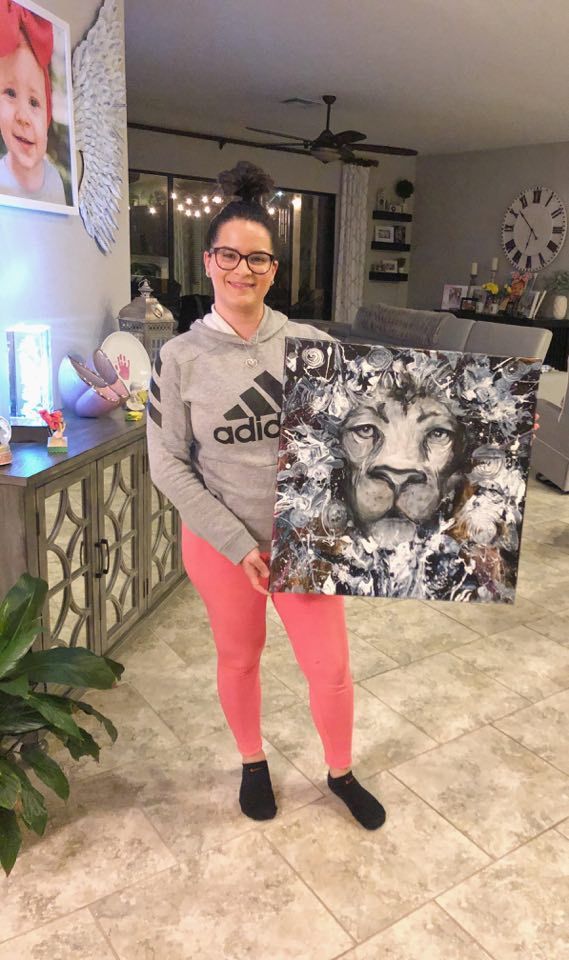 This painting hit home for us because Ariya lived with cancer 20 months out of the 27 months alive; Silas is 26 months old now. We used Silas' rain boots to stomp onto the paint to create the effect of the splashes seen. To think Samantha and Ariya lived a much different life brings an obligation to anyone with a healthy child to have gratitude and respect for the life you were given. I can't image what it's like, my heart breaks for all of you. 
This mom is a true Warrior, if you remember I found her in a 500 'likes' 300+ shares viral post as she advocates for Ellen to become a voice for change in Childhood Cancer research and funding; becoming every child's who fights cancer's mom. 
Here is Ariya's Bio From Mom Samantha: and the letter sent to Ellen:
Ellen, will you please help me stand up and be the voice for children? Will you help me bring awareness to a disease that steals the lives of thousands of children? Every 2 minutes, a child will be diagnosed with cancer. 1 out of 5 children will not survive. Over 90,000 children pass away each single year. This is more seats than the largest NFL stadium in the United States. 
Unfortunately, my daughter was one of these children. 
My beautiful daughter, Ariya, was born on May 18th, 2017 and immediately made the world a brighter place. On December 29th, 2017 at only 7 months old, Ariya was diagnosed with infant acute lymphoblastic leukemia. Our world was turned completed upside down. Ariya quickly went into remission and did well with her treatment. Our nightmare became worse on January 15th, 2019 when we learned that Ariya's leukemia had returned and this time it was stronger than ever. As parents we knew we would go to the end of the world for her and that's exactly what we did every time we got the news "nothing is working." 
Ariya was treated at Golisano's Children's Hospital in Ft. Myers, FL, John Hopkins All Childrens Hospital in St. Petersburg, FL, Dallas Children's Hospital in Dallas, TX and finally at St. Jude Children's Research Hospital in Memphis, TN. On August 2nd, 2019 after battling cancer for 20 months out of her 27 months of life, Ariya gained her wings and went to be with Jesus. 
Ariya was a silly and sassy little girl yet was very tender hearted and sweet. She loved watching The Little Mermaid, playing with bubbles and putting her stickers on ever surface she could find. She is terribly missed every single day. When Ariya was named, we didn't know her name had such a powerful meaning... "God's Lion" 
Our mission is to have Ariya's memory live on as well as bring awareness to such an awful disease that takes the life of so many little ones. I will continue to fight for her as well as every single child that has been affected by childhood cancer. 
Our federal government only gives 4% of national funding towards childhood cancer research. Chemotherapy used today on children are outdated, toxic and geared towards adults. Our children are worth more than 4%!!! Please Ellen, we need your help!!! Help us bring awareness to childhood cancer and plead with our government for more funding towards research so that our children can have new, promising and less toxic therapies. 
#AriyaGodsLion ??? 
Thank you for your time.
I love your spirit, I love your drive, and am so inspired by your dedication to Ariya's memory. Thank you for being so incredible and strong; You Are Amazing. 
Love. 
Aubre' Murphy The WarPaint Project: Custom Artwork For Warriors of Life 
Joseph Marlette Pour-House Art by JMStone 
www.thewarpaintproject.com 
To Nominate or Donate please visit www.thewarpaintproject.com 
#warpaintproject 
#acrylicpourpuddlestompforAriya