Annette Miller Fundraiser
Annette Miller, a Warrior of Breast Cancer in our project from 2020, received her painting of a Native American warrior in the video above. She says, 'That's my Warrior' and covers her mouth, tears fall down every face! this last weekend, Annette and her partner lost everything in a fire, of all the items one would think to be most devastating, Annette regrets losing her painting. 
We will be suspending fundraising, donating 50% of all donations made through June 14th, to Annette and her family and we will replace her warrior painting. anyone donating will be named on the back of her painting, something we can all be proud of. 
If you would like to donate GIFTS, please email HERE.
Thank you so much for your support! We hope you'll help us raise $10,000 for Annette and her family with us. We appreciate everyone who donates, thank you so much! Please be sure to SHARE. 
DONATIONS RECEIVED BY:
Thank you to all who have donated to WarPaint Project, Inc in JUNE 2021! Through July 4th, 2021, 50% of ALL donations will be given directly to Annette Miller. Your names will be listed on the back of Annette's Native American Warrior painting, which was lost in the fire, and a special handmade card will also be included, which your names will also be added to. 
David & Linda May $25
Bill & Judy Smith $100
Terry Bode $25
Pam Hunt $25
Joanne Marvin $25
Beth Dunn $20

​​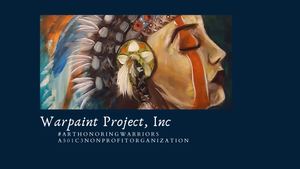 If you would like to donate native American handmade decorations, gifts, or other small items to replace her entire collection of native American items lost in the fire, please click 'contact us' and we will arrange to ship your items to join her painting. gift cards to amazon are also accepted. 
We are needed, so we show; while here, we will do more than pray. We will give her our energy, our time, and our EFFORT, as we fight alongside her while she fights cancer and rebuilds her home. Not Cancer, Not Fire, will take her down- A Warrior, Strong, Beautiful, and Fierce. 
Aubre and Joe 
"

Not Cancer, Not Fire, Not Anything Today; I Am A Warrior!" - For Annette Miller
— Aubre and Joe
Annette Miller Fire Fundraiser
Help us raise $2500 for Annette Miller by July 4th, so she may remember her WarPaint Project Family and Community is always here.
Enter the amount you wish to donate