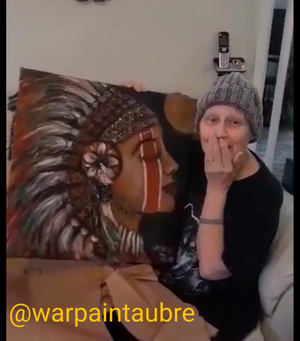 Annette Miller and her longtime partner woke to a fire that took everything; all her belongings, her car, her home, and of all things she says she will miss, her Warpaint Project Warrior Painting. So, we undo this tragedy by starting over. While here, let's do more than give her a painting, let us raise money for the rest of what she can replace. 
TO anyone receiving this email, consider this your invitation to a kind-deed that lives forever in her heart, in her home, in a space so few will ever know. Our Warrior has been fighting a brutal battle with breast cancer and now she's lost everything in a fire. We say, 'Not Cancer, Nor Fire, will beat this Warrior' but we play a role in her mental health with a second important mantra, 'Warrior, NOT Worrier' with a little help from her friends here, at WarPaint Project. 
Now through the 4th of July, 50% of every single donation will be given to Annette in cash! This means we will be able to help Annette REBUILD! Please help us by donating what you can afford anywhere you see the 'DONATE' button. We will place your name on the back of her new Warrior Painting and inside a very special card. Only those who donate in this very special act will be named, let's build the list to show her we will always be here for her. Today, we have covered the cost of her 24"x30" replacement painting, gifts, and shipping AND we have another $80 in cash. We can and should do more; will you help us? 
If you would like to send Annette a special message, simply CONTACT US with your message and donation and we will print it out and place it inside her care package! God forbid we need the support she needs, please be one of the people who will give a damn about what our Sweet Warrior is going through with an outpour of support. 
Can we make it $1000? Can we make it to $5000? Only you can define what kind of support we can give. Please donate today and let's all come together for the sake of the bravest Warrior we've ever known. We've created a special page for Annette on our website to tell her story, to show you her video, her Warrior Painting, and photos. Please come together, show her we see her, and we are here. 
Not Cancer, Not Fire, Breaks This Warrior Down..., Oh, to have that faith, nobility, grace, and strength., To Annette; Warrior of Fire, Warrior of Breast Cancer, Warrior Of WarPaint Project, in need of your help. 
Thank you to all who step up, who lend a hand, and anyone who would like to donate ITEMS of Native American Decor, please please reach me at my EMAIL 
With all our greatest thanks and proudest appreciation, 
Aubre' Murphy and Joseph Stone -Artists/Founders 
WarPaint Project, Inc- a 501c3 Nonprofit Organization of Artists Donating Art to Warriors of Cancer,  Warriors of Life @warpaintproj (FB)  @warpaintprojectinc (IG) 
#warriorslikeannette #warriorsneverdie #notcancernorfire #alwaysawarrior #artislove #artistscanmakeadifference #neverunderestimatelove #artcouplesmakingart #artisreallove