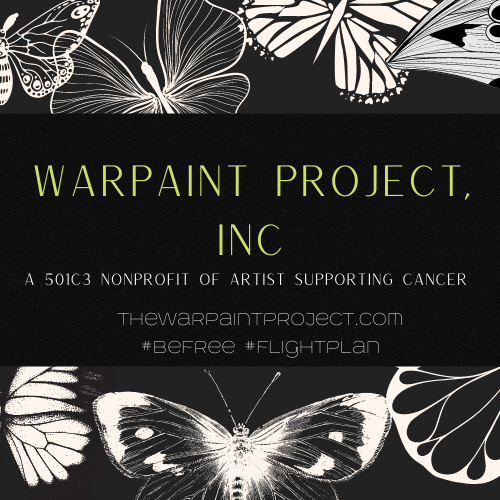 We Are Artists Donating Paintings to Warriors of Cancer....
When you donate, you will never pay salaries! WarPaint Project, Inc uses volunteers only. Instead, your donation is used to buy materials, to buy gifts, and to ship paintings to Warriors of Cancer nationwide.
Enter the amount you wish to donate
WarPaint Project, Inc ArtBook HERE
WarPaint ArtBook
Twenty pages for you to add color to, or learn to draw from, in our first ever ArtBook. Thank you so much for all your support!

Subscribe and be updated on our next ArtBook!
11.6 MB
WarPaint Project, Inc- Our Greatest Ambition- Our Greatest Hope; 2021
Welcome to Our WarPaint Project, Inc, we are so excited to announce our second year in operation. Over the last two years, my husband Joe and I have created a space where Artists and Warriors of many life-altering diagnosis connect over a commissioned painting. We share their story, we bring their painting ideas to life, we rally around them forever, and we are seated front-row to watch how Warriors and their families respond to living, fighting, and overcoming tragedy caused by Cancer, Autism, Down's Syndrome, and rare diseases like Stone Man Syndrome, Hunter's Syndrome, CHARGE, and other illnesses where, to date, only one Warrior exists with their disease. 
There is nothing more emotionally devastating than the death of a child in our project. Oh, My God, it shreds us to pieces, empties our state of being, and it never leaves. I can still not say her name out loud, Baby Charley stole my heart, then broke it, I will not ever recover; yet I have no idea who she is, I only painted for her. But, in doing so I saw the love of life experienced by a child who knew she would not live much longer, taking every day as another day to let the world know who she is; learning, with all she had, how to walk, though it didn't matter if she did; having every excuse to lie down and die, because she was not going to survive. But, she didn't care about the day she would die, only that she had another day, filled with the opportunity to sing, dance, and be alive. Her blindness didn't stop her sight and cancer didn't stop her decision to become the very best person she could be. The impact one child can have on others can be immeasurable, but only of you'll stop to learn. Our paintings are a 'front' for the real story, their Warrior Story, that we tell in the background of every painting you will see. 'Stop for the Art, Meet A Warrior' our promise. Last year, we lost Jackson, Antionette, Titus, Justin, Ace, Wyatt, Dylan, Alivea, and painted for others who passed before we met. But there were two Warriors who lost their lives whose impact on us is undeniable, forcing us to understand who we are, what we want, and where we belong.
This next chapter in WarPaint Project, Inc. is the answer to these very questions. We, as human beings, as a couple, as parents, and founders of this great nonprofit, ask lots of things of ourselves but never would we have accepted turning Warriors away be needed. But, it was, so we can focus on those who we feel our gift can benefit in ways we had not ever imagined being able to offer.  We can not ever be accused of 'following the money' or 'the masses' as our project focuses on a minority to which we have given the last 45 days to learn what work needs to be done. It is for these individuals we have found a great disservice has been done, that you are not given the respect. support, or acknowledgment you deserve;. it is our most important task to create change for you, which we will fight for every single day. If it were not for her bravery, her sacrifice, and her noble truth, we would not have known how passionate we are about her and others like her. If it were not for her sacrifice to exist, beyond her death, using our artwork as an avenue to do so, we would not have known our paintings could be used in this way. We are so grateful to have met all our Warriors, and their mothers, and we are always going to hold you close to our hearts, but in this new WarPaint Project, we have decided to focus on Warriors of the same kind, foregoing all others, that our project be given in tribute for one type of Warrior, only. We hope you'll stick around to see why this was necessary and see what incredible wisdom is found. After all. they are the Mother's of The Earth. 
Warpaint Project, Inc
EIN- 84-5125650     A 501(c)3 Nonprofit Organization
Honoring Warriors with life-threatening illnesses with a 'Warrior Tribute' of donated, original acrylic paintings, custom designed, with their family's painting requests. Aside from the painting, a Warrior Giftbox containing handmade, donated gifts from artisans, crafters, authors, and a musician. In all more than two dozen gifts are opened, by Warriors of Life, who deserve to know their fight for life is supported. 
What is a Warrior? Warriors are not 'sick'. The individuals celebrated in The WarPaint Project have been diagnosed with a wide range of life-altering, life-threatening, and sometimes life-ending illnesses, all of them sharing a common trait; they fight with bravery, and strength, and live their lives with great meaning and purpose, above their diagnosis. Within the WarPaint family, you'll find Warriors of Childhood Cancer and Women fighting Breast Cancer are the most commonly nominated. Autism, Down's Syndrome, Extreme Disabilities, Multiple-Sclerosis Warriors are also seen throughout the Project. Some Warriors are a 'Warrior of One' whose diagnosis have only been mentioned once; CDLS, Stone Man Syndrome, CHARGE, are Hunter's Syndrome have only been mentioned once. Some Warriors overcame great life challenges, winning their battle with Domestic Violence. Last, in a category all in its own, to recognize people who are Warriors of Kind-Deeds, with extraordinary lives giving to others. Warriors of many 'classes' are recognized in WarPaint, most are actively fighting their illnesses. Other kinds of Warriors include Survivors and, in its own category, those who have fallen. Warrior Guardian Angels are individuals who have lost their lives, likely at the hands of their illnesses. Guardian Angels that have passed while in the care of The WarPaint Project are listed on the back of every painting in a very special section. It's the intent of the WarPaint founders to give their Guardians a place where their memory, and legacy, never dies. 
The WarPaint Project invites anyone who would like to donate handmade gifts to be donated to every Warrior's Tribute, to arrange shipping with founders Aubre' and Joe by emailing Aubre@thewarpaintproject.com. Gifts should be small, handmade, and should be given with the intent that our Warriors treasure and cherish what you've given them. Todays gifts include Murini Glass Beads, friendship bracelets, headbands, pendant necklace, journal, books, and a CD of a song written for Warriors. To be considered a 'GiftBox Sponsor' you'll need to ship (24) units per month for a period of three months. Then, your contact information and store will be added to the WarPaint website. To see Warriors open your gifts, admiring what's been done for them, is a life-changing experience. Tenaciously Teal, a cancer-support nonprofit gives a cancer care-pack to all Warriors in the WarPaint Project, a collaboration gift that set in motion all other GiftBox Sponsors who joined in donating their gifts. The hopes in asking other artists, crafters, authors, and nonprofits to give their treasures to be given in the Warrior Tribute, is simply stated by the founders as 'wanting to extend the time it takes to open their gifts, to take an entire lifetime'. 
The WarPaint Project has given paintings and gifts to nearly 300 Warriors all over the United States with New York state it's most celebrated area. Texas, Florida, California, Ohio, Nebraska, Georgia, South Carolina, North Carolina, Arizona, all have more than a dozen Warriors receiving gifts. This gift is shipped for free, at no expense to it's Warriors or their family. The contents of the gift, including their painting and the items shipped within their GiFTBox, are free. With over $700 in material value, with as much as $280 spent shipping a single painting, add to it the time it takes to design and create all items found inside their WarPaint Tribute; the cost to create this unique experience cannot be measured. It's worth is exactly equal to the number of times their painting and gifts are seen, held, and used; their painting only as valuable as the feeling that overcomes them when they walk by their Warrior Art. Your donations allow us to improve the size of the canvas, the gifts inside, the packaging that's ripped away, to improve shipping, to share our Warrior's story with others, and to give our Warriors a faster and more efficient experience. After their painting, unlike most care-gifts,
The WarPaint founders remain in their Warrior's lives, to encourage them as they continue to fight. As new gifts are added to the Waraint GiftBox, anyone who has been celebrated in the past, is invited to have the new gift. As WarPaint expands into giving away free art supplies for life, they also intend to teach their Warriors how to use them with virtual events, video tutorials, step-by-step printable instructions, If a Warrior should pass, the WarPaint Project halts all work, closes their studio, and spends the day in memory of their Warrior's life sharing videos, photos, and their experiences being inspired. The people on the pages that follow are the bravest, toughest, most admirable people you'll find. It's as if the founders of WarPaint scoured the Earth to find the rarest, most incredible, examples of what a Warrior is. 
The WarPaint Project's artwork was created by two, self-taught, 43-year-old couple Aubre' Murphy and Joe Stone, who spend their days devoted to the momemt when their Warriors behold a giant effort of artists, of many different types, coming together for a single moment in time; to celebrate the strength and bravery of their Warrior-Ways, determined, fearless, and living above their diagnosis. Our Warriors teach us to appreciate life, to love each other better, to be thankful for our ability to create art. They show us what living is, having their future threatened, to accomplish everything you possibly dream before it's too late. We've found the meaning of love, and the purpose in life, is found through GENEROSITY; to give it ALL you have, because we should. 
We ask you to support us, our donor page has several ways to make it possible for anyone who wants to be a part of this gift, or who wants to see it fulfill its potential. From Amazon Smiles to Facebook fundraisers, to Secret Santa ArtSets for purchase; if you want to be a part of this unique celebration you can. Thank you for reading, for sharing, for giving, for spending your time with us today. Be sure to 'like' the Facebook Page (@warpaintaubre) and on Instagram (@thewarpainters) and never miss another nomination or video reveal. Become a Subscriber to our YouTube CHannel (The WarPaint Project) and the new video tutorial channel 'WarPaint TV. 
WIth all our very best!
Aubre' and JOe
You are visitor number: 12707
jaclyn johnston, best selling author of 'don't feel stuck' donates 'manifest it!' journals to our warriors of breast cancer. she is also a blogger, podcaster, emailer, and more; she is a mentor of life, she is my personal friend, and she is gifted at motivating your inner-self to evolve. a few days ago she sent an email to me that i am still in love with, let me share it with you: 
"it's not the money that you want.  It's  what money  represents to you that you want. Money = Access"
This sent my mind into a spiraling frenzy about what i want access to; she's right! i don't want money, at all- i want access to art supplies that i can gift along with the painting (like i had done in the first 70 paintings shipped) and I wanted access to free canvas and materials, and if the shipping (the largest expense) were covered, i could easily afford to double the nominations. i've always dreamed of customizing each warrior giftbox too. today there are over a dozen donated gifts from a dozen friends; magnets, keychains, friendship bracelets, a warrior and arrow charm necklace, a journal, candy, and more. but what if there were also a plane ticket for naomi's family to take a picture in front of the hollywood sign because it's on her bucket-list? she's 8, fighting stage 4 brain cancer, i want to give that to her. what if i could add a warrior cape to all the kids boxes. so they have their own superhero cape too? what if i could give them a gift card to arteza's art supplies (which i use) and they could paint their own things? i could easily ship every warrior a warpaint project photo album of all the other kids, give their contact information, they could all be warpaint pals; they could meet other kids fighting their same fight and support each other; the ideas don't end. i need access, folks! help me find access. they deserve more. 
today I am writing 1,000 artists, art supply companies, news stations, news papers, online and major magazines, journalists, and editors asking they see my video, find my project, and help me find access. I have a very important mission that they could so easily help me fund. if you're reading this, please help save this project and give me the resources to make this gift a life-changing surprise for our warriors- i cannot do this alone. 
wish me luck! any $25 donation is entry into our valentine's day raffle for a free 20"x20"x1.5" painting made for a warrior in your life. since the nomination form is closed until we can find support for the 62 gifts that remain, this may be the only way to have a painting made for your warrior; i promise i am working on it. drawing will be held at 6:00pm est on 02/14- good luck! thank you for donating; we love ya' 
aubre'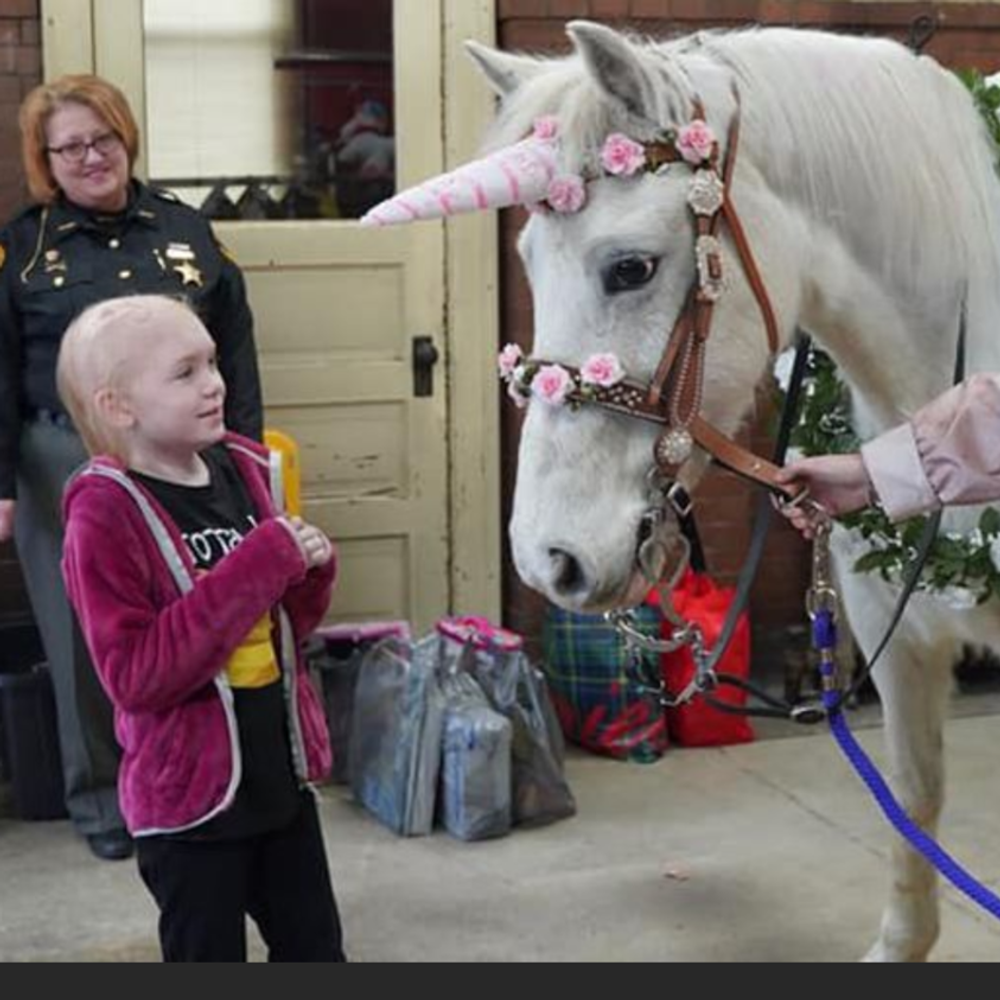 Meet Naomi
warrior of brain cancer fighting now
painting a 5 foot unicorn superhero 
naomi's wish list includes seeing the hollywood sign, going on a date, seeing a real live unicorn, attending a princess ball, in a limo - she's done almost all of them! she makes these adorable skits with dad about her super-hero abilities and even calls out wrestlers like the rock, and more telling her she can beat them and cancer. she spent her christmas starting a toy drive for other kids; naomi is exatly why we do this; to honor children and adults who use their diagnosis as a way to advocate, create change, and show a strength that unless you are 8 years old fighting cancer, you don't have. 
Her painting is almost done! make sure to subscribe to emails to see the reveal. please donate to help us gift her with additional unicorn items- as always your name is tagged on any item you add to the 'Warrior Giftbox' and is placed on the back of every painting. 
We are so inspired by you Naomi; the Unicorn Warrior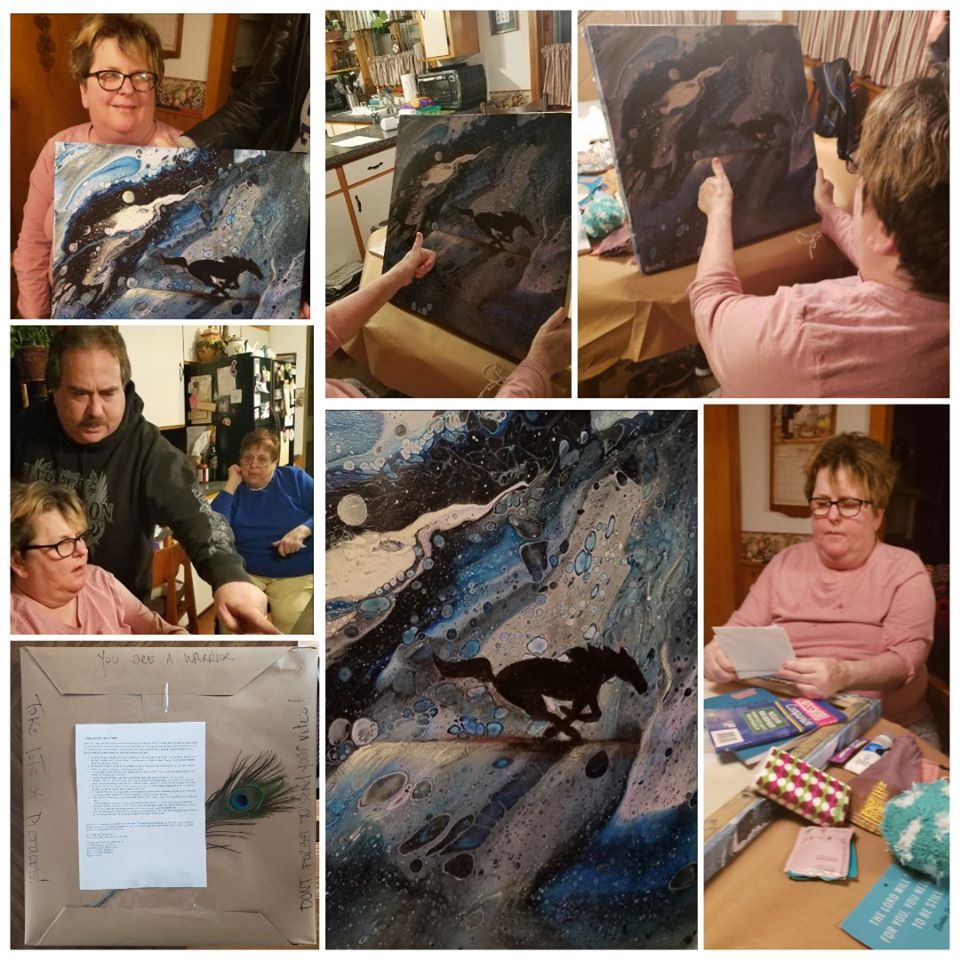 Kathleen Wuts- Orchard Park NY
AddNominated by Larry Dempsey a subheading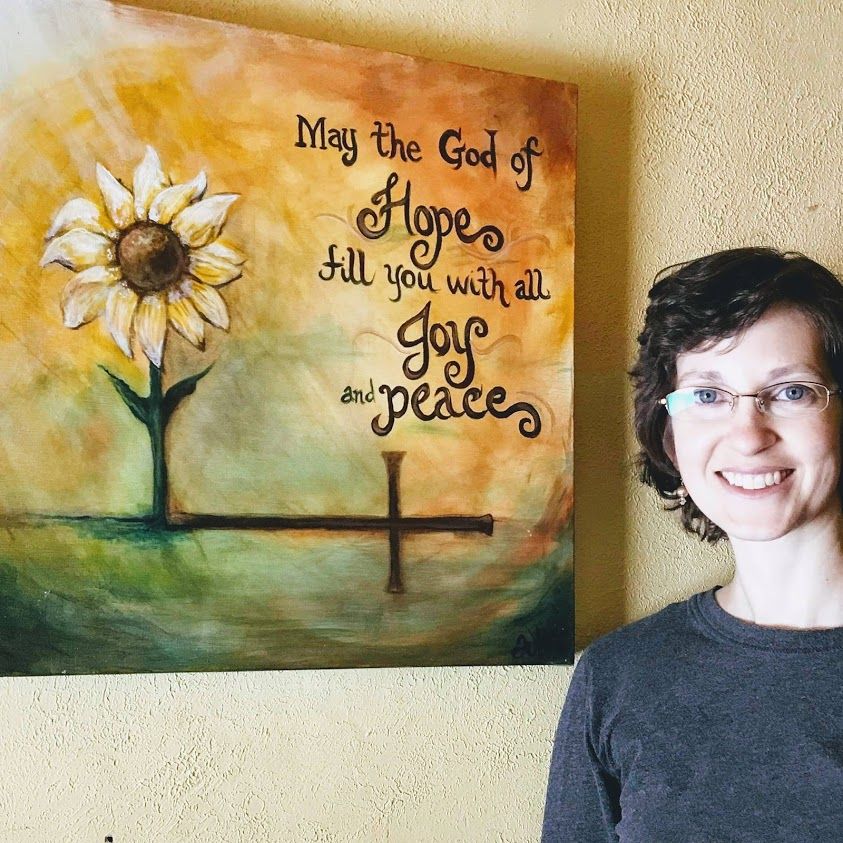 ANONYMOUS
WARRIOR OF CANCER
PRAYERS AND LOVE- ACTIVELY FIGHTING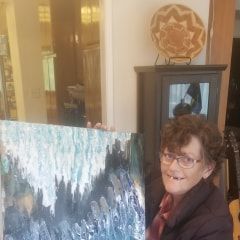 Monica Urbino
warrior of Colon Cancer
"Stampede" 
I wanted to share a snip of Monica Urbin;s Bio with you. Monica was diagnosed with Rectal Cancer and fought the fight of her life, and won! Please take this in and remember we are all in this together; and all we need is love...
"In one fell swoop, I lost my home, my business, my relationship and never have felt so alone. During this time, I read the bible and especially 1 Cor 13 which I believe sums up how Christians should act towards God, others and self."
A friend asked me, how did you make it through all that? I couldn't answer right away because I never thought that I had done anything special.
I survived and still love life because of the nurses who would take the time to give a hug, laugh or pray with me, my doctors in LA who never dismissed my concerns and treated me with great knowledge and compassion, the other patients who were suffering more than I that not only made me grateful but compassionate to them, patients who did the same with me, kindness of strangers and friends, God who when I thought I didn't want to do this anymore had to have scooped me up and held me tight, and it all boils down to love!
Having been in the healthcare industry my entire professional life, I have been so blessed to meet so many heroic patients who taught me throughout my life that all that really matters is love. Making it through maybe just a second at a time but you do.
The human spirit including mine has an unbelievable will to survive. That's a beautiful thing to witness and feel yourself!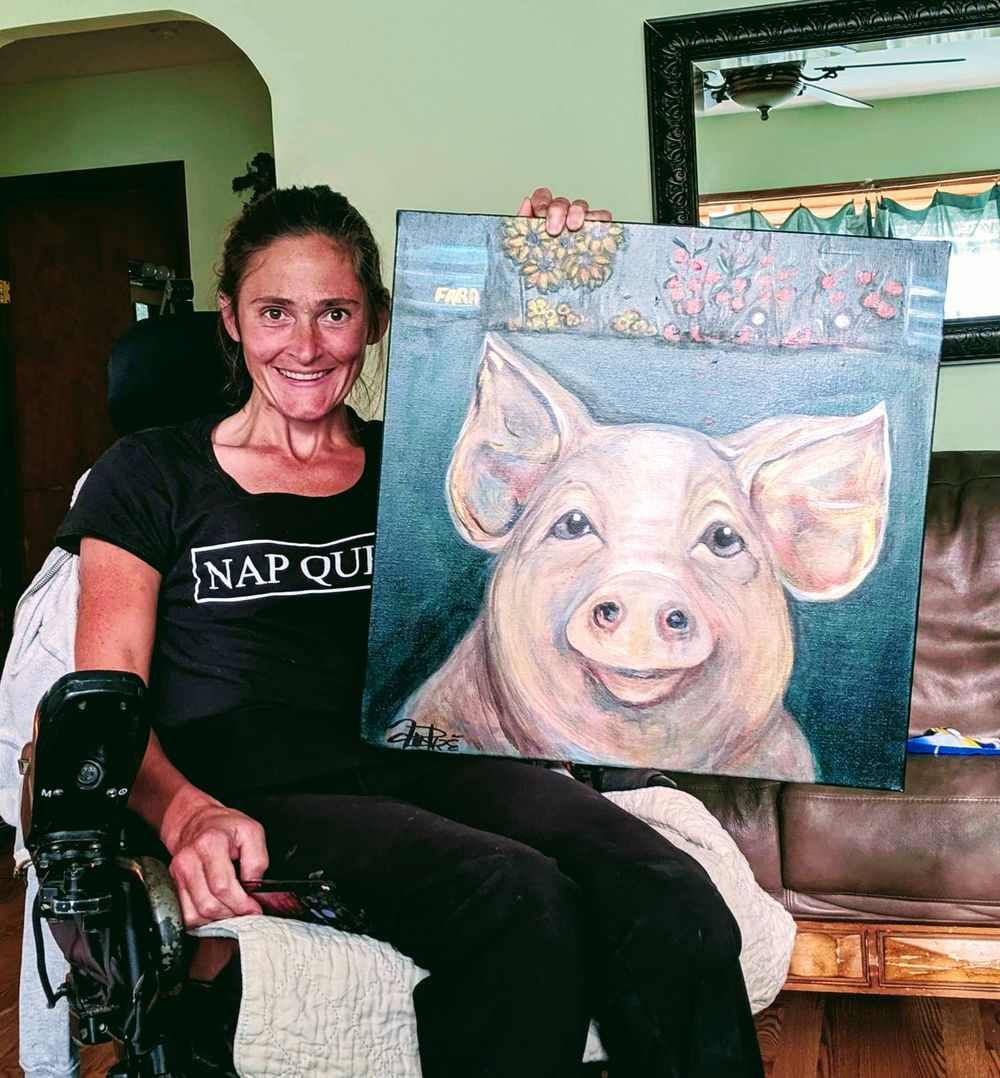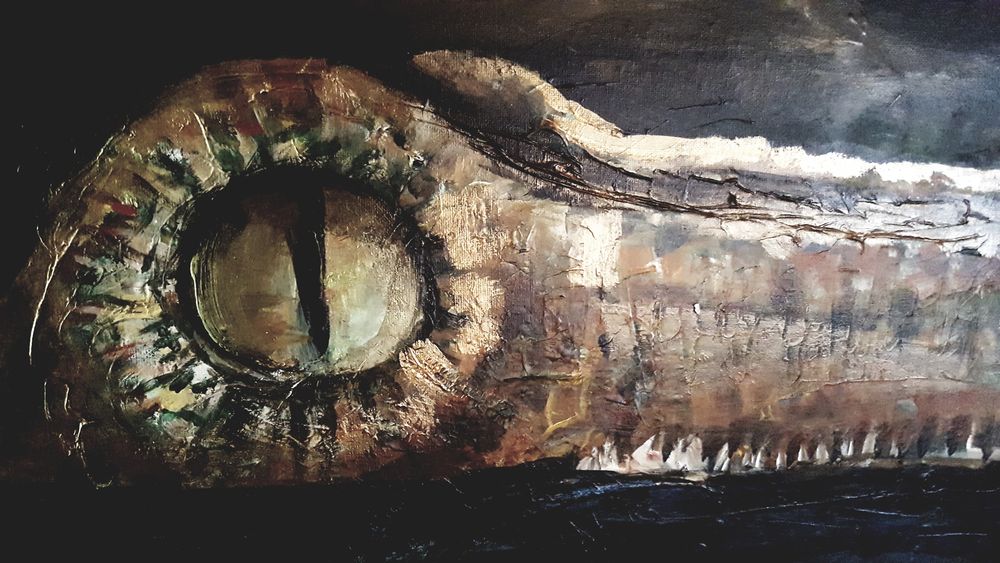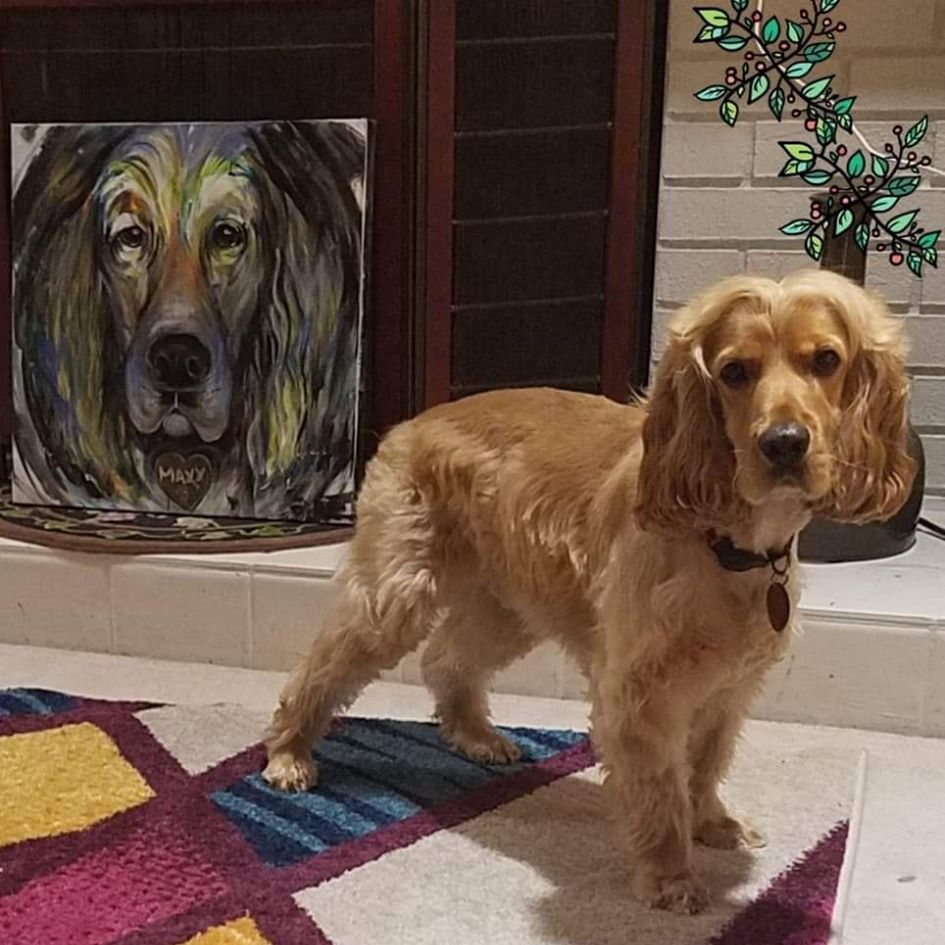 Maxx
For Trisha- Warrior of Breast cancer
From Pam, who made my day with this amazing painting reveal. This is my 'why'! 
I would like to take this opportunity to give a special thank you to Aubre for my beautiful painting and all the hard work that she puts into these paintings for the many people out there who are suffering in one way or another. It is such a blessing to know there are people out there who care and take into consideration all of us who may need a little something to brighten our days. Just receiving something in the mail and then having it to look at daily knowing I was nominated and Aubre cared enough to consider my illnesses and lift my spirits brightened my day/days. 
I currently suffer with approximately 7 bone diseases including Lupus, fibromyalgia, Rheumatoid and osteoarthritis, degenerative joint disease? cervical disk disease, osteopenia, osteoporosis. I suffer short-term memory loss due to cerebral hemorrhage I suffered from a car accident I had approximately 7-8 years ago. I also have severe migraine history in which my mom gives me injections for monthly. 
To look at me, many people may think I am fine. My illnesses are invisible, they cannot be seen. I would like anyone to live in my shoes for a week or even a day and see how it feels. Most days it is pretty unbearable, especially in the colder weather. This just explains a little bit about myself and my medical history. I have been living with all of this and more for about 10 years now and it is no fun. 
Again, thank you Aubre for all you do for the Warriors of Life Project. It is an amazing project and I am so happy that I got to be a part of it. I also want to thank Linda May who nominated me for this project. She herself should be nominated as she has been fighting and suffering for years and continues to battle daily with her many illnesses. 
Thank you again Aubre for all you do!! You are an amazing lady ?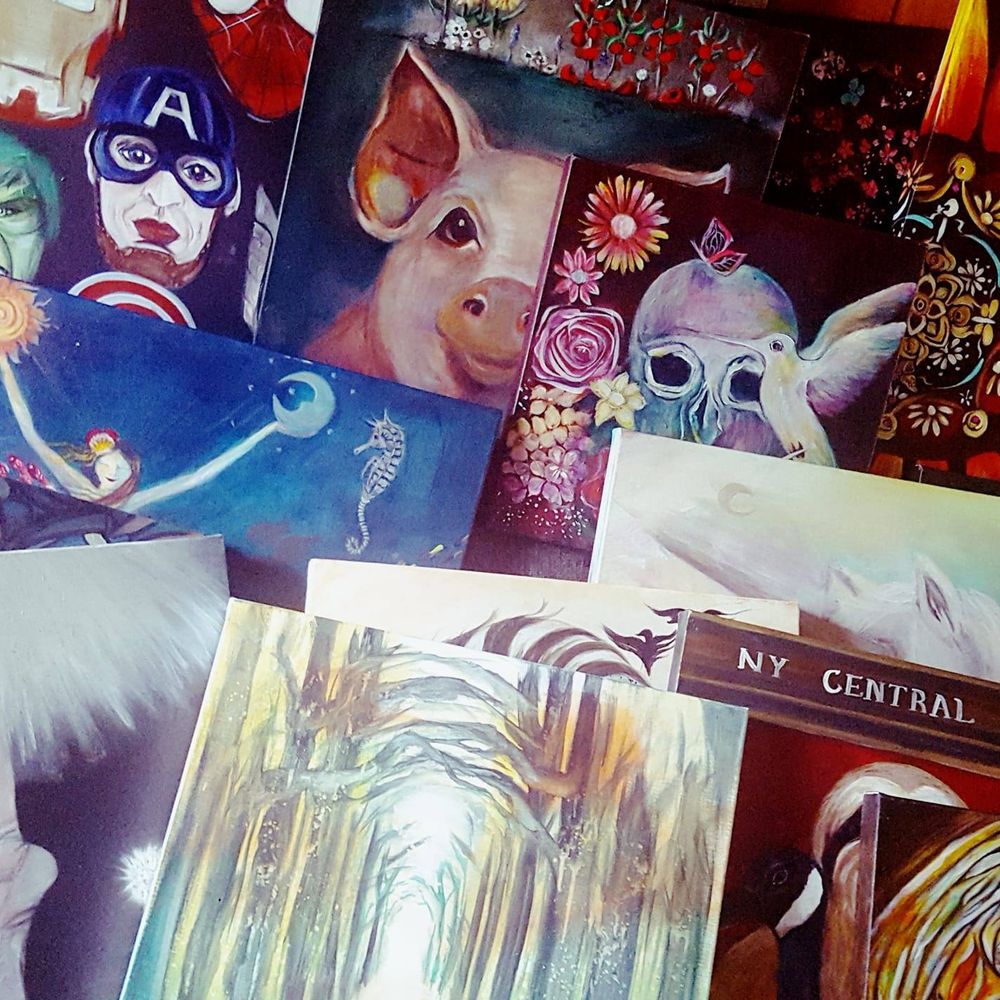 The WarPaint Project
Never Fight Alone
My name is Aubre'. I am a mother of four and a pretty normal person who loves God, my family, my work, and my friends. All of my life I've given away my artwork; if you know me personally, you have a painting or ten. I don't stop at artwork, I am a problem-solver who believes that having something that someone else needs, is selfish to keep. If I learn that someone is hurting, I want to help. God gave me a gift ; to paint artwork that's special and meaningful, and for people who deserve more. 
I never intended for any of this to happen! This project started with one painting to my best friend Mel whose close family member was diagnosed with cancer. When she called me to talk, we couldn't speak; we sat crying, sobbing, weeping, and I managed to squeak the words, 'it's going to be okay' over and over. At the end of the call I painted an elephant painting; strong, loyal, undeniably 'there'. Her reaction to receiving her painting was so deeply moving that I would need to give this gift again, and again. This project began out of the purest, most loving moment between her and I, her smile is 'why' this began.  
Since February 12. 2019 I've found 144 fighters of Childhood Cancer, Breast Cancer, Autism, Down's Syndrome, and very rare illnesses like CDLS, Stone Man, and Willie-Prader. I share their story in their own words with the 'Warrior's Bio' and ask for a painting request. Once the painting is finished it's boxed and shipped, as a GIFT. 
In the following pages you'll see Warriors who will inspire you to throw away the dumb stress in your life and make you appreciate the people that you have around you. Here, I celebrate and honor their amazing stories and give each of them a community of nominators, fellow warriors, supporters, and sponsors, who want this Warrior Gift to be an experience. In the GiftBox there are gifts from all over the nation; gifts are shipped to me from artists, authors, cancer survivors, and people who want to be a part of their gift. It's so easy to love these Warriors, and they need it! 
Thank you for allowing me to share this with you, to give these Gifts to you, to add your gifts to it, and to see these Warriors of Life experience a gift that says, 'You will Never Fight Alone". I don't know where this is going, I only know this is what I need to be doing. The Warrior GiftBox continues to evolve with new items- there will never be enough. If you would like to help with shipping, materials, or even add gifts to their shipment; let me know! 
The last piece of this experience is found on the back of every painting; this is where I write the names of every person who's ever donated, supported, and given to this experience. I also have an area for our 'Fallen Warriors' who watch over this project from heaven. Being able to see how many people gave their time and resources to make this gift happen, is so important. They are NOT alone, I can prove it. 
Thank you everyone, this is a journey for sure, we are in this together; I wouldn't have it any other way. 
Love, 
Aubre'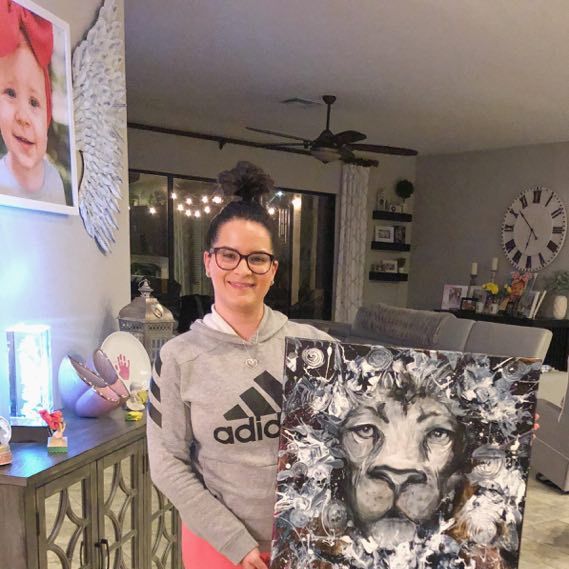 Samantha Jennings
Add a subheaAriya's Lion: Puddle Stomp
Warrior Painting Reveal!!!
Samantha received her daughter's painting today! In memory of her daughter Ariya The Lion, who loved puddle jumps, bubbles, and life; a painting of a 'puddle stomp'
This painting hit home for us because Ariya lived with cancer 20 months out of the 27 months alive; Silas is 26 months old now. We used Silas' rain boots to stomp onto the paint to create the effect of the splashes seen. To think Samantha and Ariya lived a much different life brings an obligation to anyone with a healthy child to have gratitude and respect for the life you were given. I can't image what it's like, my heart breaks for all of you.
This mom is a true Warrior, if you remember I found her in a 500 'likes' 300+ shares viral post as she advocates for Ellen to become a voice for change in Childhood Cancer research and funding; becoming every child's who fights cancer's mom.
I love your spirit, I love your drive, and am so inspired by your dedication to Ariya's memory. Thank you for being so incredible and strong; You Are Amazing.
Love.
Aubre' Murphy The WarPaint Project: Custom Artwork For Warriors of Life
Joseph Marlette Pour-House Art by JMStone
www.thewarpaintproject.com
To Nominate or Donate please visit www.thewarpaintproject.com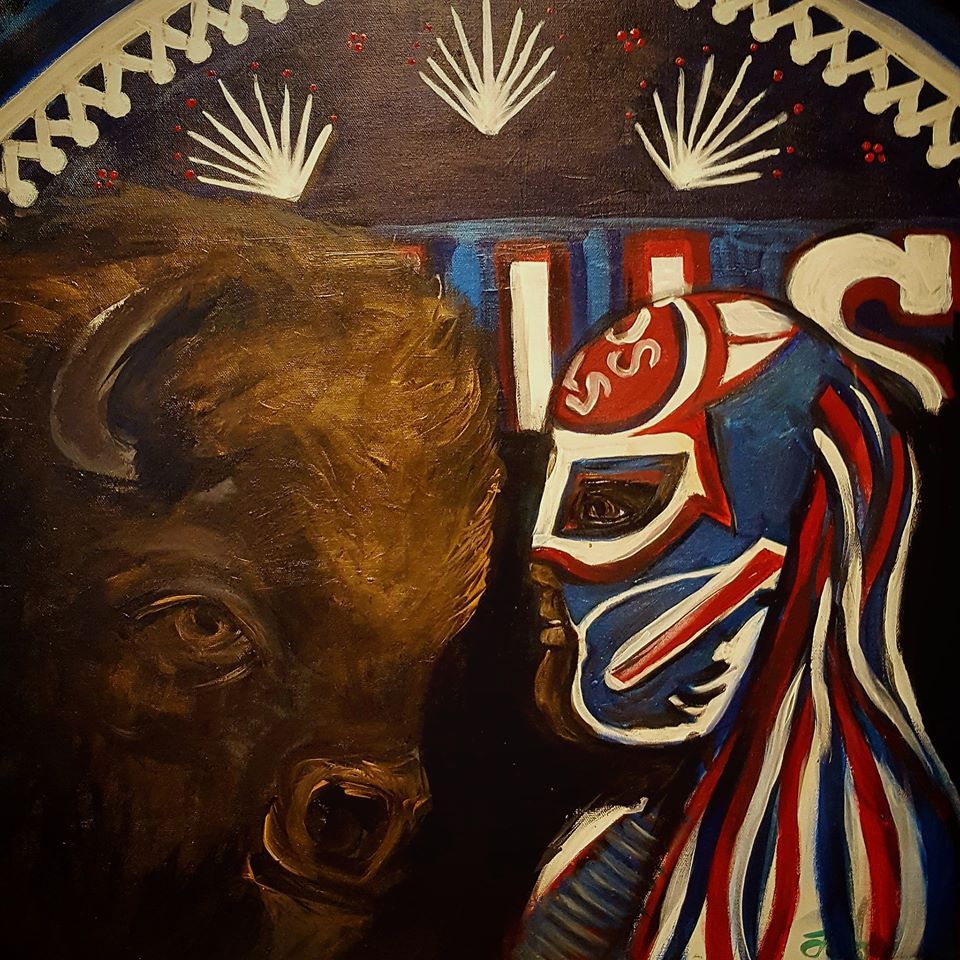 Pancho Billa -Ezra Castro
Warrior of cancer and kind deeds
To Ezra Castro's family
Nominated by Charles Pellien
Warrior of Cancer, Guardian Angel
Warrior of Kind Deeds to Buffalo, NY
"First, as Ezra'

To Ezra, From Aubre'
(My first Warriors Bio)

A good man is not of spine alone; he is of deep soul and genuine thought; of motive that's pure and intent that inspires, far more than breath and pulse. His pride is a badge and not a sword, his tongue spews wisdom not venom; his loyalty, like his laughter, loud and contagious. When eye to eye, a promise for brotherhood meets you if you will help his cause and a warning for war if you intend harm; behind his gaze, an invitation for either meets you long before words are ever spoken. This man will stand alone no matter the popularity of his values; he'd rather isolation than compromise what's good and right. This man, Ezra, Pancho Billa, a local icon, a SuperFan of the Buffalo Bills, dressed in attire that gave him notariety but he seized the opportunity to use it to become the Kindest Man in Buffalo, even while he waged a war with cancer. His gift to Buffalo creates an inspiration that we all need to take to heart, that a man in his final days is either one that takes or one that gives; he gave us all he had.

From the Warpaint Project and it's community, we hope this gift is a reminder that Buffalo sees the Man you are and will always remember you 'first as Ezra' then as Pancho Billa, both as Warrior of Kindess.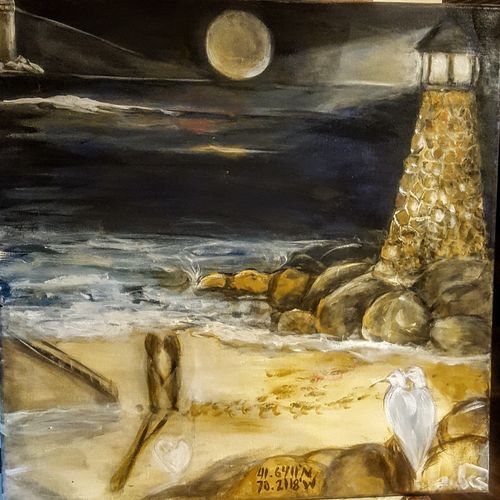 Albert Warrior of Colon Cancer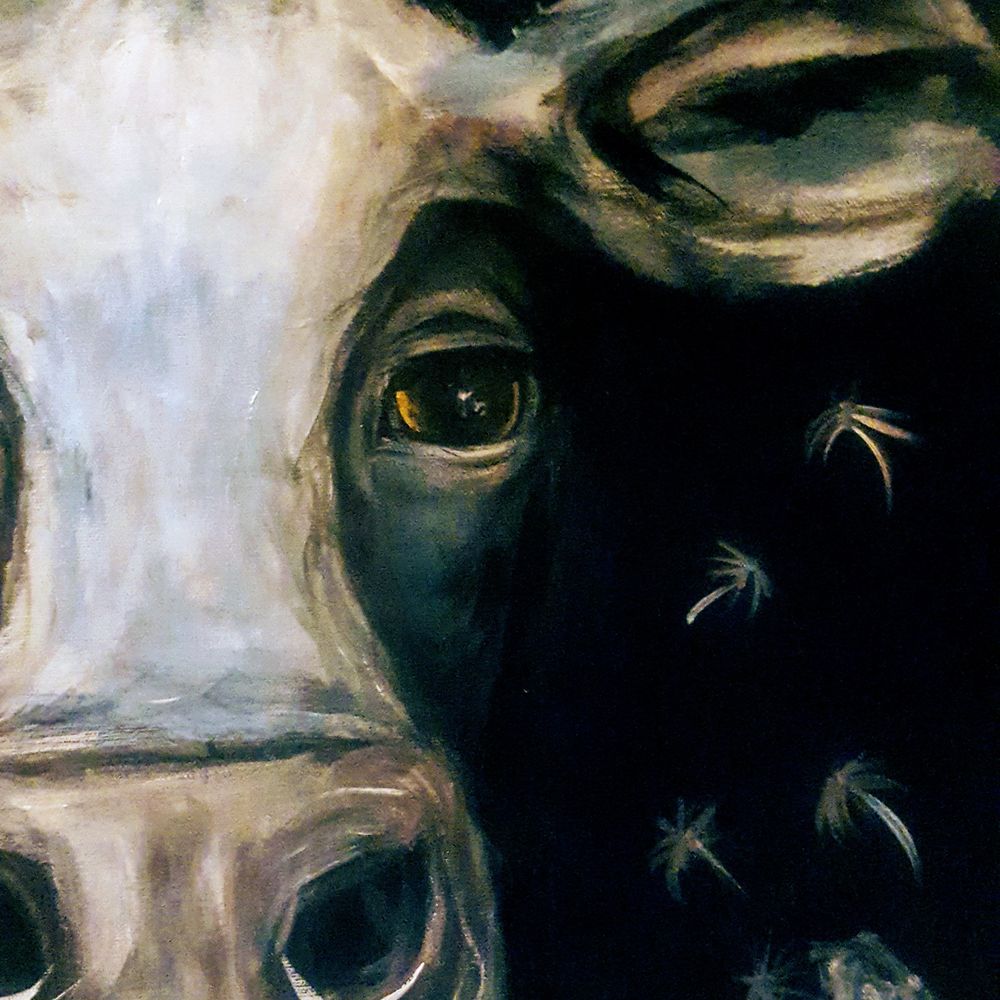 For Danny
warrior of childhood cancer